Cooking vegetarian camping meals is fun and easy, whether on a camping stove or campfire. Enjoy preparing these delicious, simple dishes in the open air on your outdoor adventure.
Camping is a fun outdoor activity for all the family, and part of that fun comes from cooking outside. Vegetarian camping meals needn't be complicated, and many of the recipes below use the same ingredients and kitchen utensils. You'll want to bring a cooler to keep your vegetables, tofu, milk and cheese chilled, especially if you are going on a long trip.
We'll give you some great ideas on what to cook for main meals, plus some sweet dessert and drink ideas to make your next camping trip extra memorable.
Necessary Tools and Ingredients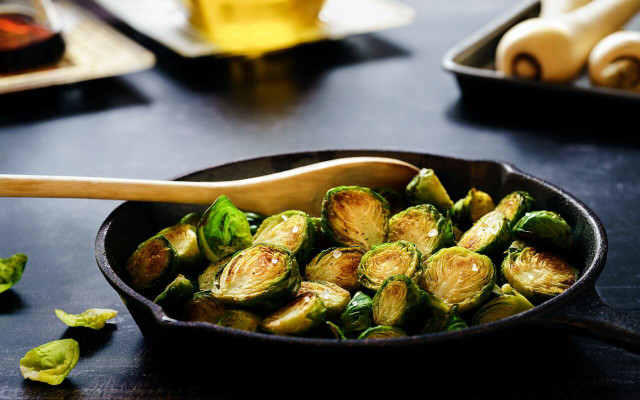 For ingredients, we recommend bringing the following for your camp kitchen, which feature in many of the recipes below:
Salt and pepper
Flour
Baking powder
Margarine
Tomato paste
Cheese (cheddar or Parmesan)
Pasta (shells and spaghetti)
Onions
Garlic
Vegetable oil
Tofu
Vegetable stock cubes
Milk
The cooking utensils you'll need include:
A chopping board
A sharp knife
A skillet pan and lid
A fish slice
Measuring cups
Potato masher
Large saucepan
Wooden spoon
One plate/bowl person
Enough forks and spoons for each person
A thermos mug per person
A mixing bowl
Keep reading to discover some exciting vegetarian camping meals.
1. Campfire Pizza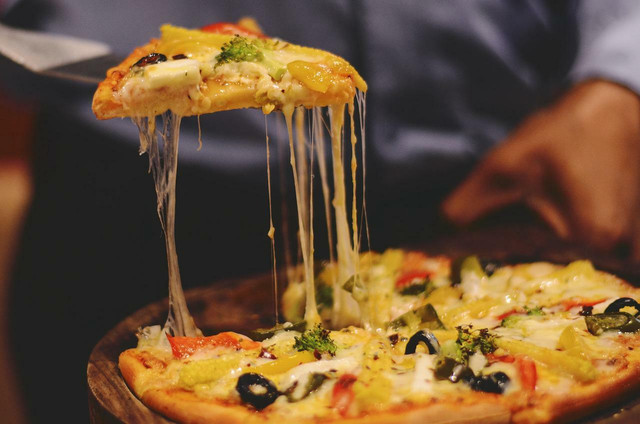 Is it possible to make pizza on the campfire? Yes, it is! This vegan and customizable campfire pizza recipe uses an English scone base which is made from flour, salt, margarine, baking powder, and water. The topping is completely flexible, but it's a good idea to start with tomato purée. You can then add any sliced vegetables of your choice, and top it with grated cheese.
You'll need a large skillet pan with a lid to cook the pizza in and a chopping board with a rolling pin to prepare the base. Consider making the dough at home and bringing it with you in a cooler if you don't have a camping table and to save time.
2. Carrot Pasta is a Hearty Camping Meal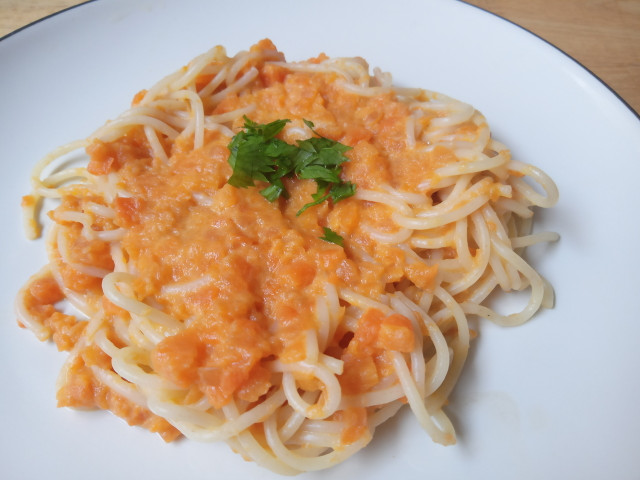 Pasta is such an easy dish to cook outdoors, and dried pasta is convenient to store when camping as it doesn't need to be chilled. This carrot pasta recipe uses a few simple ingredients, including dry pasta, onion, garlic, carrots, vegetable stock, brown sugar, oil, salt and coconut milk, making it a convenient camping meal.
Make sure you bring a potato masher with you to purify the boiled carrots without a blender. To further simplify things, miss, out the basil and breadcrumbs in the final step. It is recommended that you cook the pasta first and then make the sauce in the same pan, using the pasta water for the vegetable broth.
3. Easy Vegan Carbonara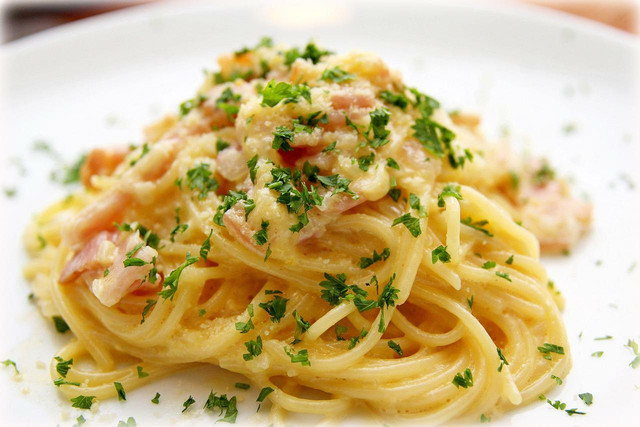 Another simple pasta dish to make on the camping stove or fire is vegan carbonara. The ingredients are easy to bring on a camping trip, they include spaghetti, oil, onion, garlic, tofu, soy milk, flour and nutritional yeast.
If you want to make this recipe vegetarian rather than vegan, you could use cow's milk instead of soy milk. You could also use eggs as in traditional carbonara. Simply beat two eggs in a bowl and once the spaghetti is cooked, pour the mixture over it and toss the hot spaghetti in it, so that it thickens and coats all of the spaghetti. Cook the spaghetti first and use the same pot to make the sauce.
There's no need to use an immersion blender in this recipe, just use a wooden spoon to beat the mixture instead.
4. Homemade Hamburger Helper Camping Meal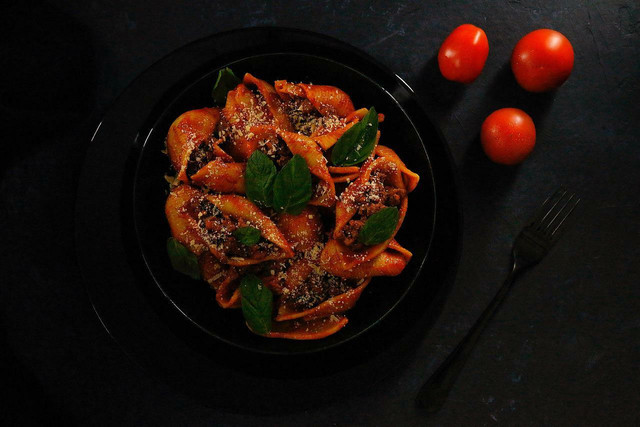 A quick and easy pasta-based dish, this homemade hamburger helper uses pasta, vegetarian mince, milk, onion, garlic, tomato paste, cheese and vegetable stock. Skip the herbs and spices to make it simpler. This is a one-pot recipe, so you can use your trusty skillet pan for this.
5. Chickpea Salad: A Healthy Camping Lunch Option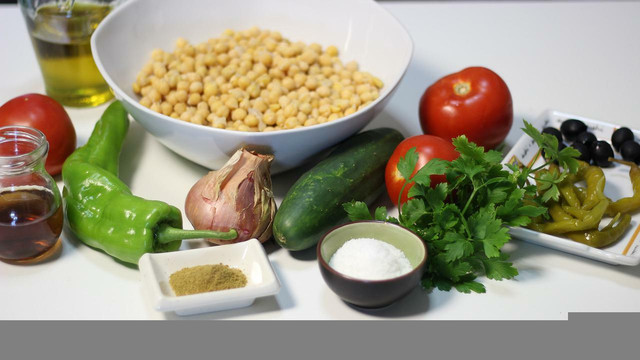 Salads are great for camping as there's no cooking involved. This vegan chickpea salad uses canned chickpeas, a cucumber, a bell pepper, a carrot and a red onion. To keep your salad ingredients fresh, put them in a cool box with an ice pack. To make this dish easier to prepare you can skip the salad dressing and it will still be tasty. Ensure you bring a cheese grater to grate the carrot and a sharp knife and chopping board to prepare the vegetables.
6. Easy Frittata Recipe for a Camp Breakfast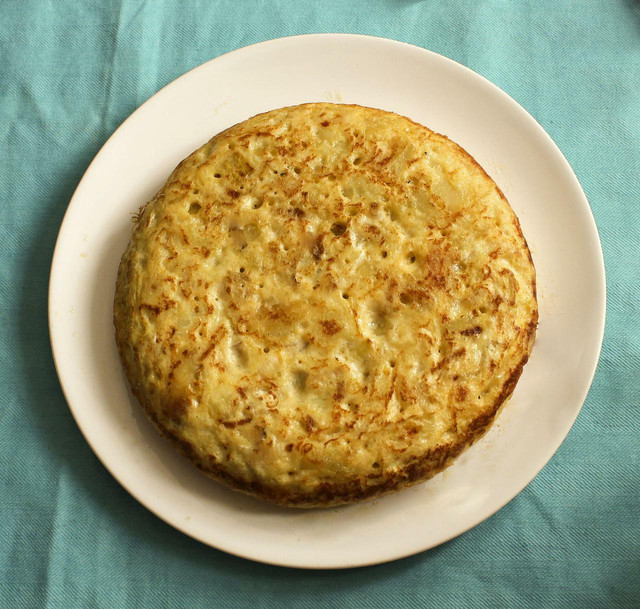 This vegan frittata uses tofu instead of eggs, but vegetarians are welcome to use eggs instead, as per a traditional frittata. This recipe uses potatoes, bell pepper, tomatoes, and spinach, but most kinds of vegetables would work. To simplify things, you could choose to omit the herbs and spices from the tofu "egg" base and just season with salt and pepper.
To make the tofu "egg" base you'll have to use a large mixing bowl and wooden spoon, rather than a food processor. Instead of baking this frittata in the oven, you can cook it in a skillet pan on the camping stove or campfire, with a lid to brown it.
7. Grilled Cornbread on the Campfire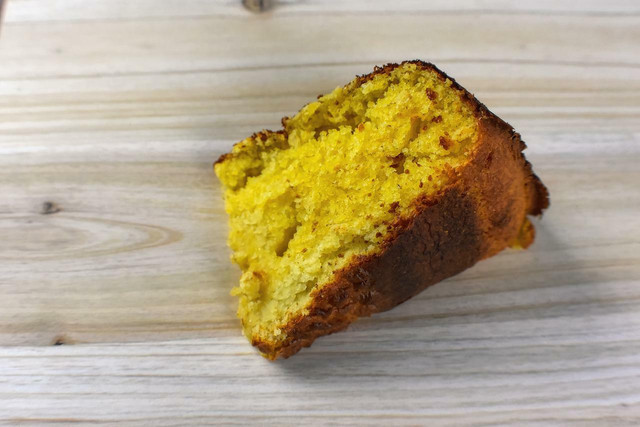 A Southern specialty that can be made on the campfire or barbecue grill, grilled cornbread is deliciously crispy and filling. Choose from a range of topping such as jalapeños, honey, and butter, caramelized apples and onions or green vegetables.
You'll need to bring a skillet to grill the cornbread. Make it from scratch at home first using this Homemade Southern Cornbread Recipe, then all you need to do is grill it when you're camping.
8. Vegan Chop Suey on the Camping Stove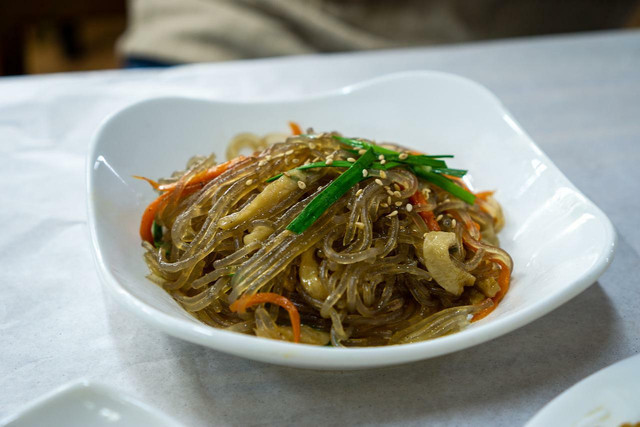 Vegan chop suey is a noodle dish, packed with vegetables and tossed in soy sauce. Noodles are so easy and quick to cook on the camping stove and easy to bring on a camping trip as they're light and don't need to be kept cool. This recipe uses sugar snap peas, bell peppers, carrots, celery, and cabbage, but you could substitute them for any vegetables that you have with you.
You'll need a skillet pan or a wok for this recipe. A skillet may be more convenient as you can use it for some of the other recipes mentioned here.
9. Mushroom Risotto as a Camping Meal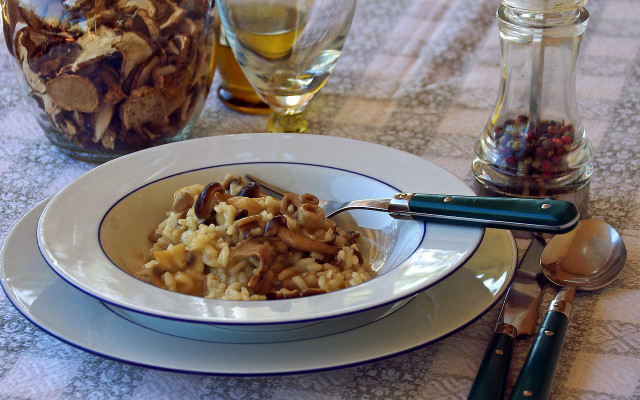 Similar to pasta, rice-based dishes are easy and convenient to cook when camping. Mushroom risotto only requires a few ingredients: oil, onion, garlic, mushrooms, rice, vegetable stock and Parmesan cheese. You'll need to use your skillet pan for this, and ensure you bring a measuring cup or jug to measure the vegetable stock in.
10 & 11. Pumpkin Curry and Pumpkin Potato Fry Recipes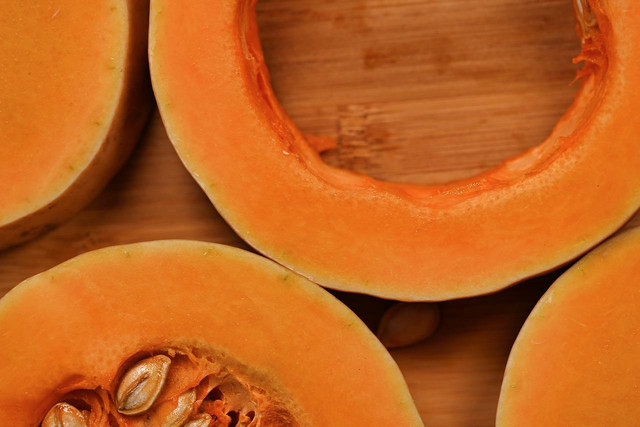 Pumpkins are seasonal fall vegetables and can form the base of many dishes. This vegan pumpkin curry uses a red Kuri squash, but you could just use a regular pumpkin. Coconut milk adds some creaminess to the curry, and chili and curry powder give it its spicy taste. Serve with boiled rice, and ensure you bring a saucepan to cook the rice in first, and then after washing you can cook the curry in the same pan.
Alternatively, use pumpkin, potatoes and onions to make pumpkin potato fry. Use your skillet pan to boil the potatoes, and then fry them with the pumpkin. Season with salt and pepper and skip the herbs to make it simpler.
12. Low Calorie Vegetable Soup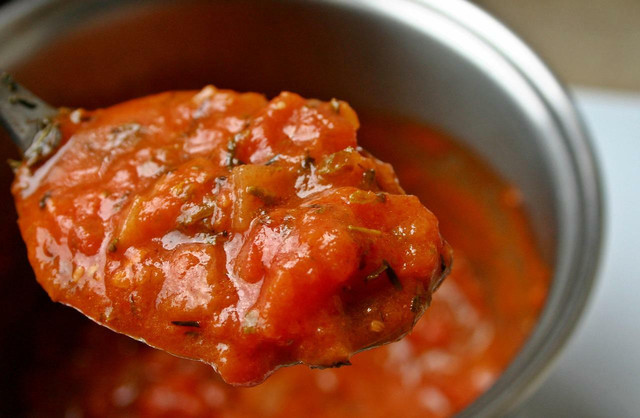 This low calorie vegetable soup is really easy to make and can be adapted to suit your needs. You'll need vegetable stock, canned chopped tomatoes and garlic, then you can use pretty much any vegetables you want or add chunks of tofu. This will be a chunky soup as no blender will be used.
13. Hot Cocoa and Vegan Marshmallows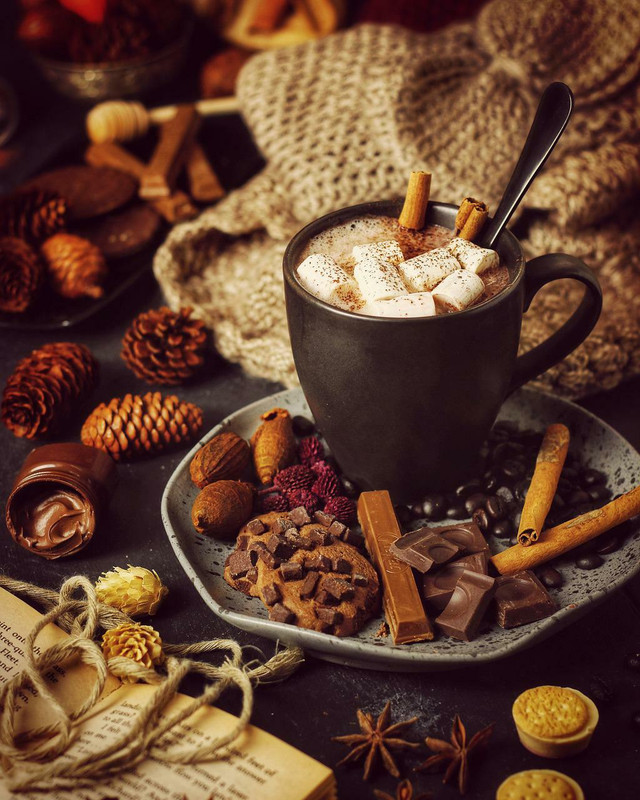 A real treat around the campfire is toasting marshmallows on it or dipping them in your homemade hot cocoa. Make sure you bring a thermos mug to keep your drink nice and warm and check out how to make easy homemade gelatin-free marshmallows, to bring on your trip. You could even top your hot cocoa with whipped cream and chocolate sprinkles or flakes.
14. No-Bake Cookies For Your Camping Dessert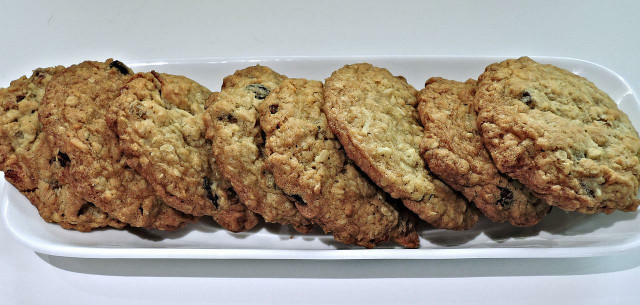 Don't let your sweet tooth miss out while camping. You can make no-bake cookies, which don't need to bake in the oven. All you need are peanut butter, maple syrup and oats. It won't take you long to combine them on the camping stove and then let them set in the open air for thirty minutes. Ensure you bring a couple of baking trays on your camping trip and a parchment paper substitute to put them on.
15. Apple Frying Pan Cake for Camping Dessert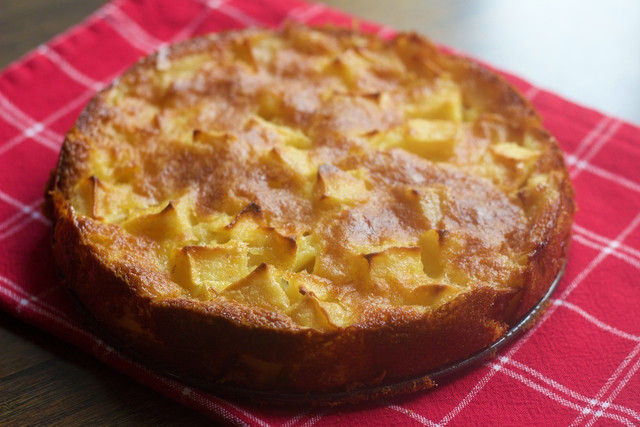 Another dessert to make on the campfire or camping stove is apple frying pan cake. Again use your trusty skillet pan and lid for this one. You'll need some basic ingredients for this one, including a large apple, flour, sugar, milk and oil. Skip the lemon and vanilla to keep things simple.
Read more:
** Links to retailers marked with ** or
underlined orange
are partially partner links: If you buy here, you actively support Utopia.org, because we will receive a small part of the sales proceeds.
More info
.
Do you like this post?
Thank you very much for voting!