Coffee grounds have endless uses post-roast. Here are seven sustainable household hacks to help you recycle those spent coffee grounds in your home, garden or as compost.
Many of us simply can't bear to leave the house in the morning without a hot brewed (or cold brewed) cup of joe. Although not always considered food waste, coffee grounds often head straight for the trash. However, there are endless sustainable (re)uses for coffee grounds out there to try.
1. Coffee Grounds Uses: Caffeine Shampoo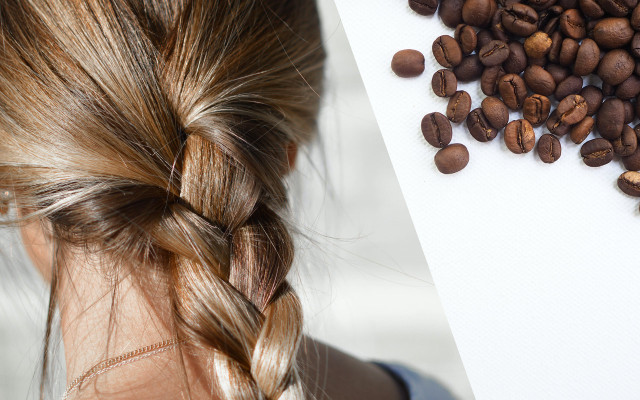 Numerous companies have begun to put coffee grounds to use and develop special caffeine-shampoos. Caffeine promotes hair growth directly from the root by targeting the chemical DHT, the hormone often responsible for hair loss. At the same time, caffeine from coffee grounds also triggers the production of ATP (energy in biological cells). This promotes proper hair growth in its active growing phase. This is why these products are said to combat hair loss and support healthy hair growth.
Here's how to try your hand at one of the most popular coffee grounds uses for yourself at home:
Take half a handful of coffee grounds and massage them into your wet hair.
Here, it's essential that the coffee grounds reach your scalp so the caffein is able to reach the roots of your hair.
Following this, you can either lather your hair with shampoo and wash or leave the coffee grounds in for about half an hour and then rinse them out.
Utopia's tip: No Poo Shampoo: The Natural Alternative to Conventional Shampoo
2. DIY Peelings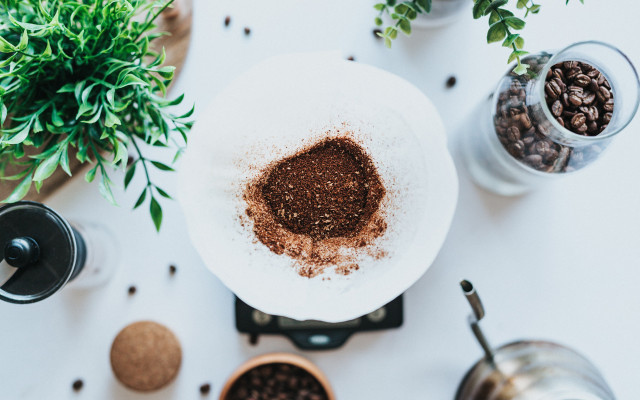 This DIY peeling made from coffee grounds is cleverly inexpensive and guaranteed to be free of microplastics. Caffeine is said to improve blood circulation and dilate the blood vessels. This is where coffee grounds find their use in helping to prevent cellulite while leaving the skin pleasantly smooth.
Here's how it's done:
Mix the coffee grounds together with olive oil in a bowl. For one handful of coffee grounds you'll need about two tablespoons of oil.
Whisk together thoroughly with a spoon into a thick paste.
Now you're ready to put the coffee ground peeling to use. Apply directly onto your skin and massage.
Now wait about half an hour so that the peeling can take effect.
Rinse and you're all finished!
Utopia's tip: Tutorial: Natural DIY Body Wash for Beginners
3. Sustainable Uses for Coffee Grounds: Garden Fertilizer and Compost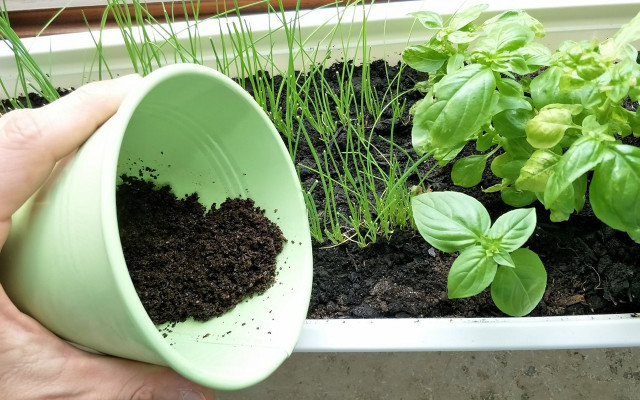 Coffee grounds contain numerous nutrients commonly found in store-bought fertilizers: Potassium, phosphorus, and even nitrogen. However readily recyclable, this sustainable use for coffee grounds requires a bit of prep. Here's how to put coffee grounds to use in your garden as a fertilizer:
The coffee grounds you use in your garden must be dry in order to prevent mold. This is especially important for coffee grounds from filter machines.
Plants best absorb the fertilizer when the coffee grounds are mixed into the soil. We recommend you try out a small amount to see how the plant reacts. Gradually increase the amount of coffee ground compost until the plant has obtained ample nutrients and shows no additional reaction.
You can mix the coffee grounds fertilizer into the soil on a weekly basis.
Until then, you can store the dried (!) coffee grounds in an airtight jar (an old jam jar, for example).
Coffee grounds can just as well be placed in the compost bin after use. Just be sure to keep in mind that they are considered green compost and must therefore be balanced out with some brown compost material.
Utopia's tip: Kitchen Herb Garden: Grow Your Own
4. Coffee Grounds Uses: Wasp Repellant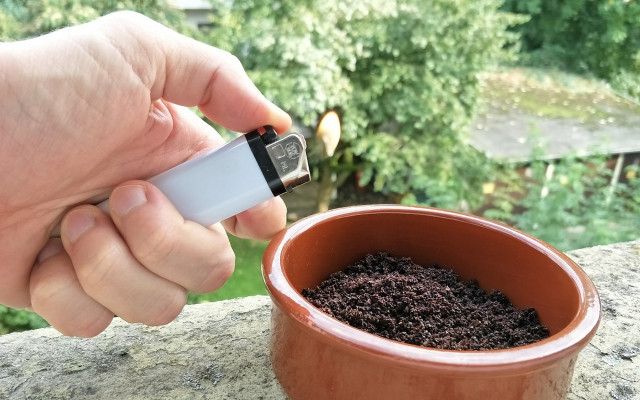 Fresh lemonade or sugary sweets on your balcony or porch in summer are bound to attract a crowd, sometimes one with wasps among it. Before they drive you inside, how about a harmless and natural solution? You can use coffee grounds as a quick and easy wasp repellant in your garden or around the grill. Here's how:
Fill a fireproof bowl with dried coffee grounds and place it at the end of the balcony or terrace.
Now light the coffee grounds with a lighter or match.
They should now begin to smoke heavily and, depending on the quantity, will burn up in about five minutes.
Any wasps in the immediate vicinity will perceive the smoke as a signal of danger and fly away.
The majority of your guests will hardly smell a thing. Some may even find the slight smell of coffee pleasant!
Utopia's tip: Natural Ant Repellent: How to Get Rid of Ants Naturally
5. Coffee Grounds Uses: Easter Egg Dyes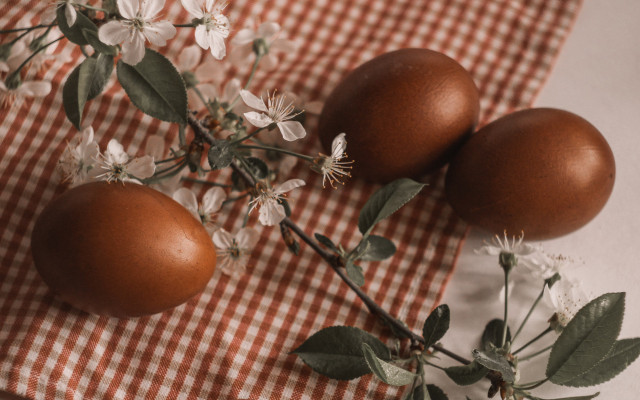 And the list of coffee grounds uses goes on: You can even use them to make a natural Easter egg dye. Make dyeing Easter eggs a blast and forget artificial dyes or pre-colored eggs wrapped in plastic packaging. Here's how to put coffee grounds to use on Easter:
Pour approximately half a cup of coffee grounds together with half a gallon of water into a medium sized pot and bring to a boil.
Check to see whether they have turn the water brown. Depending on the strength of the coffee grounds you use, you may need to add to some more.
After the egg dye has boiled for around 20 to 30 minutes, add the eggs and boil for about ten minutes.
6. Coffee Grounds: Get Rid of Unpleasant Smells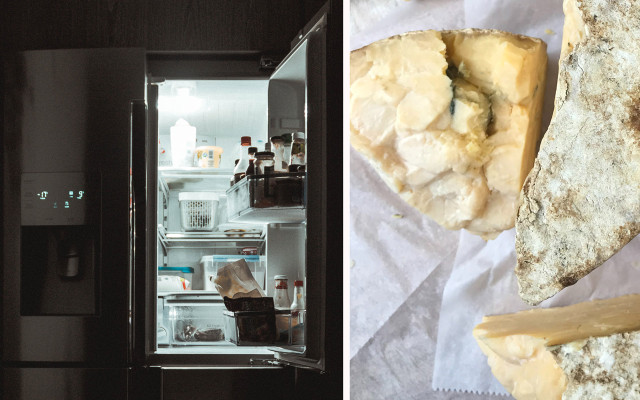 Coffee grounds find yet another one of their uses in ridding your home of unwanted scents. Whether the smell of onions or sweat, you can use coffee grounds to make light work of unpleasant smells. Their surface structure attracts odor molecules like a magnet. Here's how it's done:
If your hands still smell like garlic after cooking, simply rub them with coffee grounds.
It is a little more complicated to get the smell of sweat out of shoes. Here you should sprinkle some coffee grounds into your shoes, let them take effect overnight and wash them thoroughly the next day.
You can put coffee grounds to use in freshening up your fridge overnight. Simply leave a bowl of them in your refrigerator for around 24 hours.
7. Kitchen Cleaning: Foaming Cleanser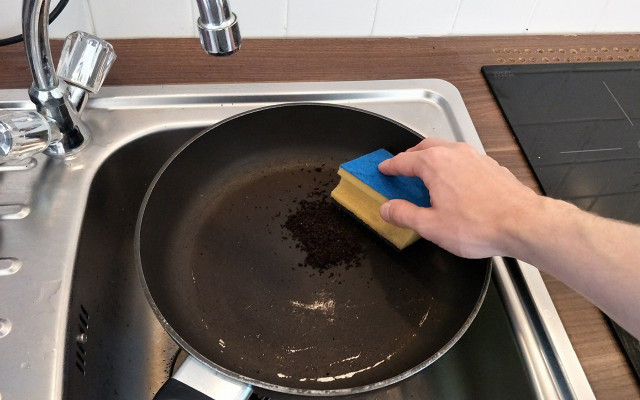 There's no need for chemical cleaning agents to remove grease and grime – coffee grounds will do just the trick. Similar to many common mildly abrasive cleaners, they work to grind away fat residue buildup on baking trays, grills or frying pans.
Utopia's Tip: For hard to remove grease marks and buildup, soak the pan or pot in hot water and a handful of coffee grounds for around 15 minutes. Afterwards, washing your kitchenware squeaky-clean should be easier than ever.
While you're at it: Homemade Oven Cleaner: 3 DIY Methods Better Than Chemical Cleaners
Please note, however, that you should not use coffee grounds to clean ceramic and glass items. Contrary to common rumours, you should also not use grounds to unclog your drain as they will often only make the clog worse.
This article was translated from German to English by Evan Binford. You can view the original here: 7 Tipps für Kaffeesatz – viel zu wertvoll zum Wegwerfen
** Links to retailers marked with ** or
underlined orange
are partially partner links: If you buy here, you actively support Utopia.org, because we will receive a small part of the sales proceeds.
More info
.
Do you like this post?
Thank you very much for voting!