When prepared well, there is nothing better than a sandwich. With endless filling possibilities to choose from, keep reading for 5 of the best vegan sandwiches.
A well-made sandwich, with the right balance of flavors, textures, and fresh ingredients is a wonderful thing. From the choice of bread, to whether you toast it or not, the choices for this lunchtime staple are truly endless. We have come up with 5 of the best vegan versions of some of the nation's most loved sandwiches Just remember to source local and organic ingredients wherever possible for the best tasting vegan sandwich.
1. Plant-Based Rueben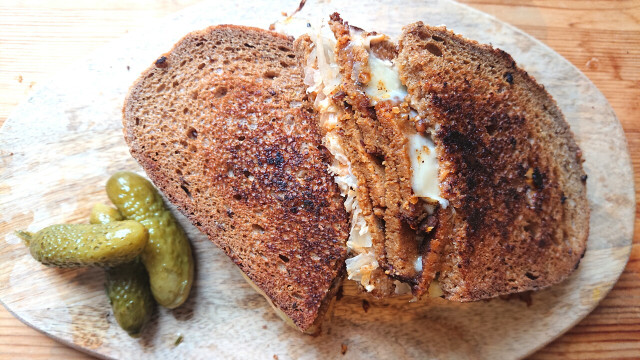 Traditionally made with either corned beef or pastrami, a Reuben is a deli staple, – and when made with plant-based ingredients, is one of the best vegan sandwiches out there. You could buy some ready-made vegan pastrami and build an excellent sandwich with vegan Russian dressing, vegan cheese, and sauerkraut. Or you can make your own seitan pastrami!
This is a twist on our seitan steak recipe. Mushrooms have been swapped out for olives to help mimic the briny taste of traditional corned beef. To achieve the tasty crust, the wheat-meat is fried, simmered in broth, rubbed in a spice mix, sliced, and fried again.
Although the ingredients list is long, don't be put off. It's very simple.
This recipe makes enough vegan pastrami for 6 sandwiches.
Ingredients:
Wet
½ cup vegan stock
¼ cup pitted black olives
¼ cup olive water
½ cup kidney beans
1 tbsp. tomato paste
2 tbsp. olive oil
1 tbsp. soy sauce
1 tsp. whole grain mustard
Dry
1½ cups vital wheat gluten
2 tbsp. chickpea flour
2 tbsp. nutritional yeast
1 tbsp. smoked paprika
1 tbsp. garlic powder
1 tbsp. onion powder
1 tsp. ground coriander
1 tsp, ground black pepper
½ tsp. salt
Broth
1½ cups water
1 tbsp. vegan brown sugar or vegan molasses
1 tsp salt
2 tbsp coriander seeds
1 tbsp yellow mustard seeds
2 tsp whole black peppercorns
¼ tsp ground allspice
3 bay leaves, crushed
2 tsp apple cider vinegar
Spice Rub
1 tbsp. coriander seeds
1 tbsp. mustard seeds
1 tbsp. paprika
1 tsp. garlic powder
1 tsp. ground coffee
salt and pepper
Instructions:
Blend the wet ingredients in a blender or processor until smooth
Mix the dry ingredients together in a bowl, and pour in the wet.
Mix together until a dough forms. Knead very briefly and shape into a rectangular slab. Chill in the fridge for 10 minutes.
Heat a little oil in a deep-sided frying pan and fry the wheat-meat until seared on both sides.
Add the broth ingredients, turn down the heat and simmer gently for around 40 minutes, turning occasionally.
Turn off the heat and let it cool in the liquid for 10 minutes. Remove to a plate and reserve the cooking broth.
Using a pestle and mortar or spice grinder, coarsely grind the spice rub together. Rub all over the meat. Place in a lidded container and chill in the fridge for 4 hours or overnight
Thinly slice the pastrami and fry in a pan until heated through. You could add in a little of the reserved cooking stock as it fries, if you like.
Layer slices of pastrami with a vegan Russian dressing or vegan thousand island dressing, sauerkraut, and vegan cheese on rye bread. Toast in the frying pan for a few minutes on each side and enjoy!
Any remaining vegan pastrami can be stored in an airtight container in the fridge for up to a week. It also freezes well for up to a month.
2. The Best Vegan BLT Sandwich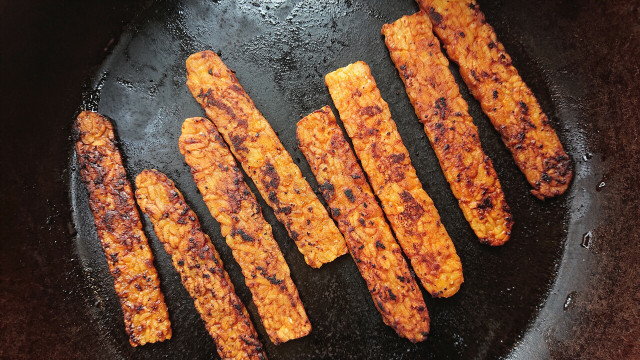 One of the most popular sandwiches out there is a BLT. Juicy bacon, crisp lettuce, and fresh tomato slices between two slices of thick-cut bread make an excellent lunch. And you can easily prepare a vegan version using our vegan tempeh bacon and vegan mayo. Not only is it just as delicious, but it's also better for the planet considering the appetite for bacon and the negative effect its production has on the environment. Always be sure to source local and organic produce where possible. Add a twist on the classic with a sriracha mayo.
3. Fish-Friendly "No-Tuna" Salad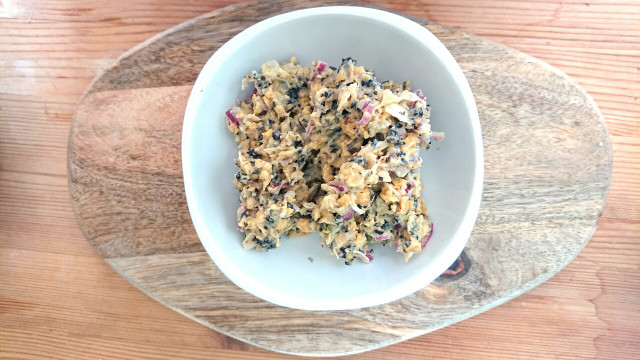 There are a lot of fish-free tuna alternatives out there, which is great for us and the environment. Some species of tuna are at risk of extinction due to overfishing, and others could suffer the same fate. Try making some of the vegan no-tuna mayo from our onigiri recipe. With a chickpea base and flavored with nori, it has a fresh taste with a hint of the sea. Chickpeas are high in protein and growing them could even improve soil health and the harvest of other crops.
Make the no-tuna salad. Spread some vegan butter on two slices of spelt bread and add a few slices of fresh, organic cucumber.
For two sandwiches
Ingredients:
1 cup cooked organic chickpeas
2 tbsp. nori flakes
¼ red onion, finely chopped
the juice of a ¼ lemon
¼ tsp. mustard
5 capers, chopped
1 tbsp. olive oil
1 tsp. nutritional yeast
1-2 tbsp. vegan mayonnaise
salt and pepper to taste
Instructions:
Place the chickpeas in a bowl and crush with a fork. You want it to be chunky, not mushy.
Stir in the rest of the ingredients.
Taste and adjust the seasoning if necessary.
You could add in a few extra ingredients like
sweet corn
red onion and vegan cheese for a tuna melt
some vegan chips – like a tuna casserole, but as a sandwich.
4. No-Waste Bombay Sandwich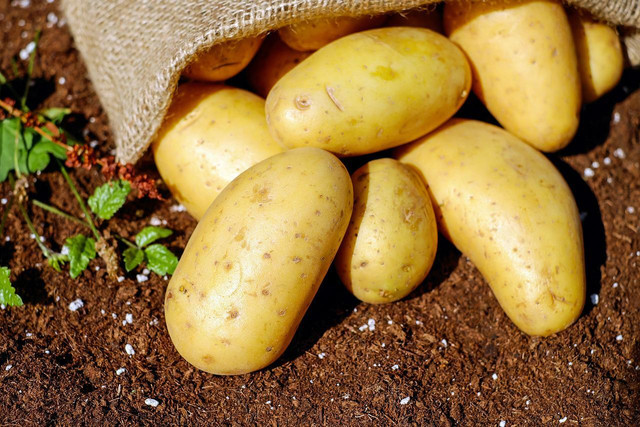 A Bombay sandwich could be one of the best vegan sandwiches that many of us may not have tried. It is a fantastic way to use those extra potatoes from last night's dinner, and you will likely have the rest of the ingredients and spices in the pantry. Cilantro chutney is quick and delicious and adds a lot of flavor.
This makes two sandwiches
Ingredients:
Coriander chutney
1 cup fresh cilantro, washed and shaken dry
½ tsp chaat masala powder (or curry powder and a squeeze of lemon juice if you don't have any)
a few teaspoons of water
½ -2 green chillis, if you like spice. Feel free to omit.
a pinch of salt
Filling
4 slices of the bread of your choice
vegan butter or margarine
2 medium potatoes, boiled and cooled
½ tsp. chaat masala or curry powder
¼ tsp. ground cumin
freshly ground black pepper
a lemon wedge
1 medium tomato, thinly sliced
1 small red onion, thinly sliced
1 small beet, cooked and sliced, or a few slices of pickled red beets
Instructions:
First, make the chutney. Add the ingredients to a blender, whizz together.
Butter the bread and spread a teaspoon of the chutney on top.
Slice the potatoes and layer them onto two slices of bread. Sprinkle with the spices and a little lemon juice.
Add the sliced veggies and sandwich together with the remaining slices of bread.
Add a little more butter to a skillet and fry the sandwiches on each side for a few minutes to toast.
5. Best Grilled Vegan Cheese Sandwich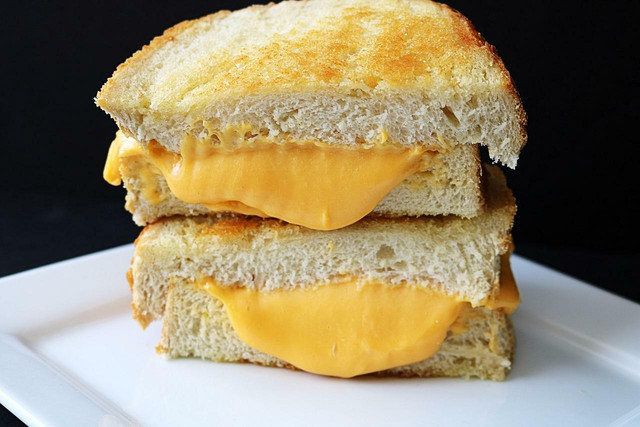 Grilled cheese is usually at the top of the list when the nation is polled on the best sandwich fillings. And it's no surprise. Delicious, warm, comforting, and versatile, it really is a great go-to lunch or snack. The production of dairy has a negative impact on the environment, but vegan grilled cheese is both delicious and most likely less damaging to the earth. Check out our vegan cheese substitutes.
A grilled cheese couldn't be more simple. Select your bread, add a vegan cheese that melts such as Violife Colby Jack (available in stores and on Amazon**) and either toast it in the pan, in a panini press, or place it under the grill. Cook until toasted and melted.
If you feel like getting a little more adventurous, why not try adding one or more of these extra ingredients:
sliced red onion and a pinch of garlic powder
sliced jalapenos
sauerkraut, for a quick and easy Reuben inspired sandwich
fresh slices of tomato, a squeeze of tomato paste, or tomato substitute
a drizzle of vegan pesto
vegan kimchi for a little spice, crunch and umami flavor
Read more:
** Links to retailers marked with ** or
underlined orange
are partially partner links: If you buy here, you actively support Utopia.org, because we will receive a small part of the sales proceeds.
More info
.
Do you like this post?
Thank you very much for voting!